"

iSayHello" – with the Travel Dictionary for iPhone and iPod Touch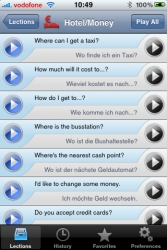 This travel lan­guage guide is designed for vaca­tions, but also gives sup­port to all other glo­be­trot­ters that have only basic knowl­edge of the local lan­guage. Across 10 lessons, all the impor­tant topics–from arrival at the air­port, cus­toms, hotels, to money and din­ing out–have cor­re­spond­ing phrases, all of which can be played back if required.
There's even a les­son enti­tled "Flirt." The clear and under­stand­able learn­ing sce­nar­ios allow you not only to com­mu­ni­cate spon­ta­neously at your vaca­tion des­ti­na­tion, but above all pro­vide quick lan­guage acqui­si­tion that is rel­e­vant to the loca­tion and activ­i­ties. Furthermore, all func­tions are usable any­time and any­where with­out inter­net access, This makes the Admovi lan­guage courses truly mobile, and aids the learn­ing process.
The graphic design and user-friendly func­tion­al­ity are par­tic­u­larly impres­sive. The travel dic­tio­nary is already avail­able in English, Spanish, Portuguese, Italian, French and Polish. Other lan­guages such as Russian and Chinese are planned.
Technical imple­men­ta­tion was car­ried out by the com­pany iheads from Bernau near Berlin. Under license, they have pro­duced 56 inter­ac­tive travel guides in five lan­guages for the estab­lished brands MARCO POLO and FALK. Alongside detailed travel infor­ma­tion, the MARCO POLO CityGuides and FALK Guides dis­tin­guish them­selves with numer­ous addi­tional func­tions. For exam­ple, a taxi call-up func­tion is inte­grated into the guide for the iPhone. FALK guides offer, among other things, offline maps with­out roam­ing costs, and new tips from the FALK com­mu­nity every hour via RSS feed.
So, sim­ply down­load the lan­guage courses from iSayHello.mobi and the iheads CityGuides from the App Store onto your iPhone, and you'll be able to start your lan­guage course and your vaca­tion prepa­ra­tions as late as seated on the plane. When you arrive at your des­ti­na­tion, you'll have no prob­lem telling the taxi dri­ver exactly where you need to go.
iSay­Hello can be found at the Apple App Store on iTunes, or at www.isayhello.mobi.



Related posts: